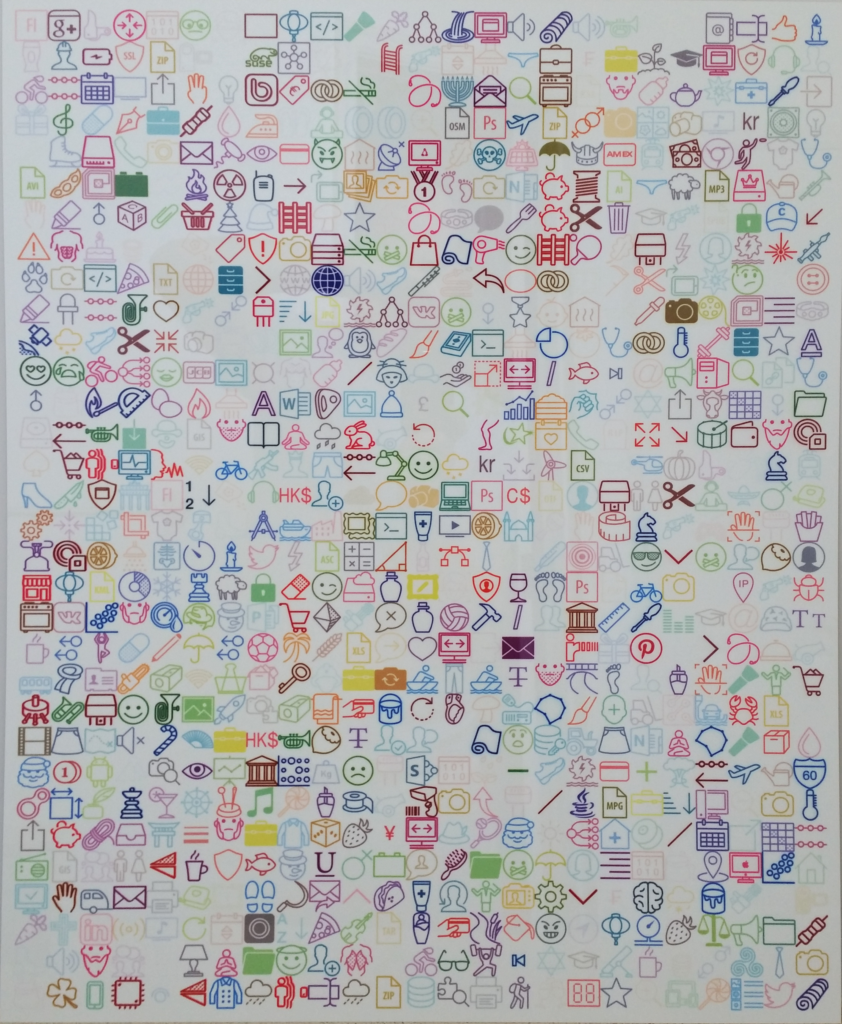 ICONS Overdrive is a collection of multicolor and black and white app icons printed on Aluminum Chromaluxe panels.
I view ICONS Overdrive as a piece of pop art in the tradition of Warhol. Pop art works because of its aesthetics and also speaks to the time in which we live. For Warhol, this time was defined by packaged food and the rise of a post­-war celebrity culture. For us, the time in which we live is defined by personal technology and the interactions we make with our smart phones, computers, and tablets. Each interaction has hundreds of icons which argue for our attention and time, and seek to summarize something more complex through a universal, visual vocabulary; small pictures convey emotions, our relationships with friends, notices that there's something new to look at or read, that there's instructions to be followed.
I wrote software which took hundreds of these computer icons, colored them, and arranged them in a grid. I then printed this large file on a 22 x 28 inch Aluminum Chromaluxe panel via dye sublimation process. The glossy finish of the panel is similar to the presentation in our normal lives: icons behind glass.
The density of the icons could provoke a feeling of being overwhelmed, or a reflection of the demands of our modern lives. Or, more positively, it suggests an abundance of our modern possibilities. My six year old son said he liked it because, "It shows all the things you can do".
ICONS Overdrive is offered in different sizes and icon densities, with multicolor icons on a white background, multicolor icons on a black background, white icons on a black background, and black icons on a white background.
April 29th, 2015 9:31pm icons